WTT Champions Macao 2022 presented by Galaxy Entertainment Group has concluded to resounding applause on Sunday 23 October as Wang Chuqin (CHN) and Sun Yingsha (CHN) were crowned champions. The finals marked the end of an exciting week in the Infinity∞Arena, which were bolstered by the support of the local fans.
Wang Chuqin won the Men's Singles title defeating World No.1 Fan Zhendong (CHN) 4-3 (11-5, 12-14, 12-10, 8-11, 11-1, 9-11, 11-8) to stand top of the podium on the final day of play. The upset win provides Wang with his first Champions win and his second WTT Series title of the year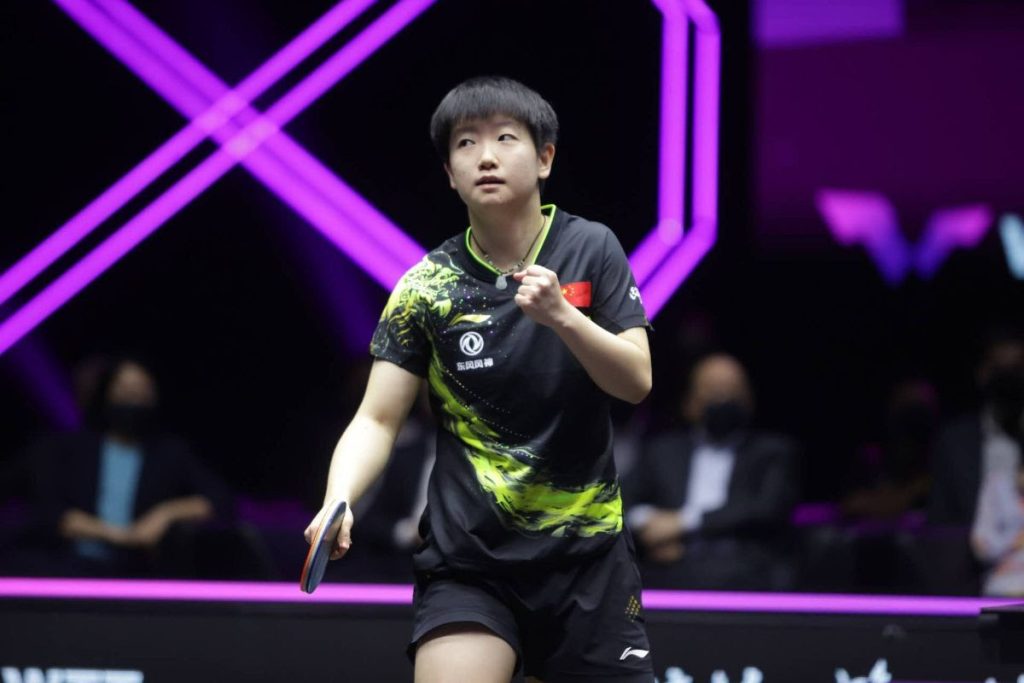 "I think everyone, including me, has never expected a result like this," said Wang. "I was simply getting into the game, fighting point by point and looking to have some breakthroughs during the match. I let myself loose today and I did better at kicking off the match as well as the rallies, which led to the victory. It was unbelievable! Only after you have been through some heart-breaking matches can you gradually find your steps and learn your strengths and weaknesses."
Playing out an intense match from start to finish, Wang and Fan put on a magnificent show for the spectators and couldn't be separated after the first six games. Having seen his 3-2 lead disappear, Wang turned the momentum around and made a strong start to the deciding game, claiming the opening six points without reply. Fan gave it his all to reduce the deficit, even saving three championship points to kickstart the nerves for his 22-year-old compatriot. However, Wang dug deep and kept his composure to close out the match, leaving the table with the Men's Singles title and a huge smile on his face.
Thanks to his efforts this week in Macao, Wang has earned himself a new career high ranking and will be moving up from World No.11 to World No.7 in the next publication of the ITTF Table Tennis World Rankings.
The Women's Singles title followed the script as World No.1 Sun Yingsha beat Chen Xingtong 4-1 (12-10, 11-8, 5-11, 11-6, 12-10) to grab her first ever WTT Champions trophy.
The final opened in tense fashion with both players showing lightning reflexes, but it was Sun who took the crucial opening game by the narrowest of margins. The top seed extended her advantage with another positive display in game two, but Chen hit back, putting her name on the scoreboard to restore a glimmer of hope. Both finalists continued to delight the Macao crowd with fast paced rallies, but there could only be one winner and it was Sun who was left standing.
"Both me and Chen Xingtong played well and gave our best today," complimented World No.1 Sun Yingsha. "This match was full of amazing rallies and high-quality attacks and counter. I got many lucky points and I think I was just a little bit lucky today. Overall, I'm delighted to win this match."
The finale of the second ever WTT Champions was the cap on a blockbuster event. The tournament saw drama from beginning to end as headline grabbing upsets played out throughout the week, legends of the sport made historic showings and rising stars seized the limelight. All this came thanks to the incredible support from Macao. The finals were witnessed by a sellout crowd, while the event saw more than 12,000 people attending during the five days of action.  Having now played host to multiple WTT events to enormous success, table tennis truly feels at home in Macao.
Next up in the WTT Series event is the WTT Cup Finals Xinxiang 2022, set to be staged from 27 to 30 October. This marquee event will provide the stage for the best 16 men and women players to battle it out to be crowned champions and take a share of US$1,000,000 in prize money.  Both events will feature men's and women's competitions held simultaneously, with only a main draw knockout phase, played on just one table, and equal prize money awarded to men and women players.