On the penultimate day of the ITTF World Table Tennis Championships Finals Durban 2023, the Women's Doubles and Men's Doubles champions were crowned.  

Chen Meng and Wang Yidi clinched the title and lifted the W.J. Pope Trophy for Women's Doubles. The Chinese duo triumphed in three straight sets (11-8, 11-7, 12-10) over Republic of Korea's Shin Yubin and Jeon Jihee in a thrilling final, securing yet another title for their country
Despite the strong start by Shin and Jeon, the Chinese pair's relentless attacks proved too much for their Korean opponents to handle.  

In the wake of their triumph, Chen Meng and Wang Yidi expressed their gratitude to their travelling supporters and dedicated the win to them. Chen Meng said, "I honestly did not expect to win this title, but Yidi and myself worked very hard together with the coaches and we are very happy to have won. We would like to thank all our fans who were present to cheer us on today."  
China continued its dominance at the World Championships Finals as top seeds Fan Zhendong and Wang Chuqin lifted the Iran Cup Men's Doubles Trophy after the Chinese pair successfully overcame a slow start to chalk up three games without response against Republic of Korea's Jang Woojin and Lim Jonghoon (13-11, 11-6, 11-5). 
Jang and Lim, who had narrowly missed out on the title at the 2021 World Championships Finals in Houston, could not one-up their performance in the current installment and succumbed to the top seeds. The Korean duo had the upper hand going into the first game, racing to a 7-3 lead, but eventually succumbed to the top seeds. 
Fan and Wang have now successfully wrested the Men's Doubles title back for China succeeding to Mattias Falck and Kristian Karlsson (SWE).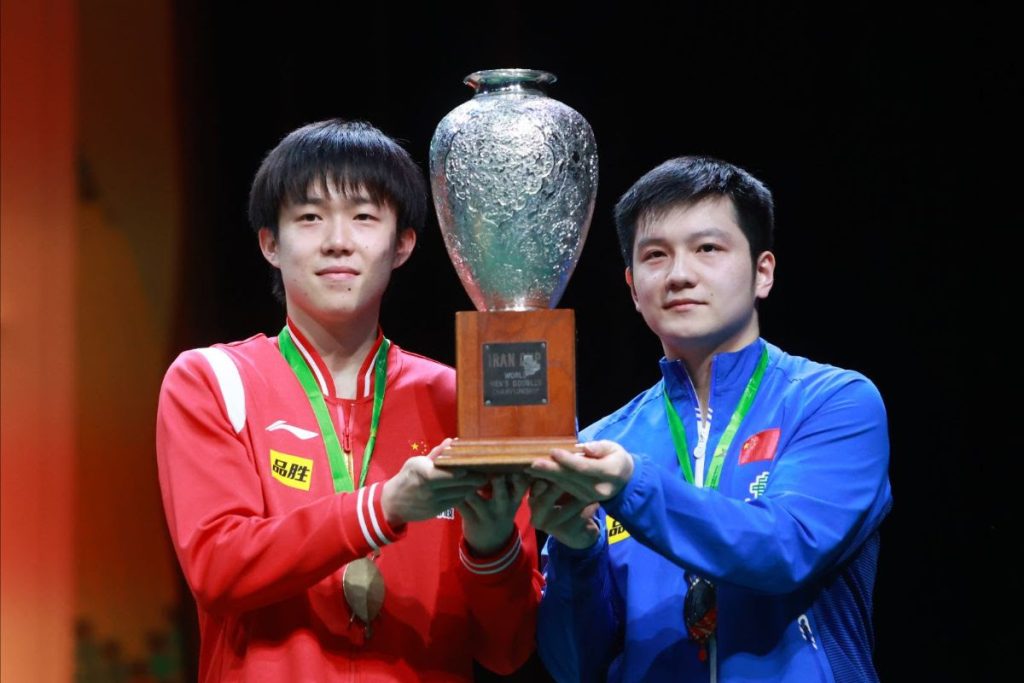 On their win, Wang Chuqin said, "I felt that Fan Zhendong and I played very well in the Men's Doubles final. In the first set, we had a nice comeback after a very difficult situation. At this World Championships, Fan Zhendong and I have gradually found our own style in cooperating with each other, and I could feel our understanding and communication improve with each game." 

The result means the prospect of a triple crown title win is still on for Wang Chuqin, who now holds two of the three trophies he is competing for in Durban, adding the Men's Doubles title to the Mixed Doubles gold medal he won alongside Sun Yingsha on Friday. In an interesting chain of events, he will next face compatriot, doubles partner, and defending champion Fan Zhendong to battle it out for the coveted Men's Singles title.  

As the ITTF World Table Tennis Championships Finals draws to a close tomorrow, the focus now shifts to the highly anticipated Men's and Women's Singles events, which will be an all-Chinese affair. In the Men's Singles Finals, Fan Zhendong will take on Wang Chuqin while Sun Yingsha will face Chen Meng at the Women's Singles Finals.