World No.1s Fan Zhendong and Sun Yingsha have emerged champions of the Men's and Women's Singles categories of the ITTF World Table Tennis Championships Finals Durban 2023 respectively.   

In the Men's Singles final, Fan Zhendong successfully defended his title after facing off against his fellow countryman World No.2 Wang Chuqin. Fan, who currently holds the top spot in the world ranking, displayed nerves of steel after Wang saved six match points, and eventually won the game 8-11, 11-9, 11-7, 12-10, 11-13, 11-3 to maintain his status as the reigning World No.1.  
After the win, Fan Zhendong remarked, "I did feel the pressure leading up to the match but managed to hold my nerve for the win. This is my first time in Durban, and I am happy that there are many fans supporting me in person and on TV, as I would not have been able to do so well without their support."  

In the Women's Singles final, Sun Yingsha took on World No.4 Chen Meng. After a closely contested battle, Sun Yingsha emerged victorious with a hard-fought victory (5-11, 11-8, 11-7, 11-7, 7-11, 11-6) over her compatriot. This would be the 22-year-old's maiden World Championships title after falling short at the 2021 installment in Houston.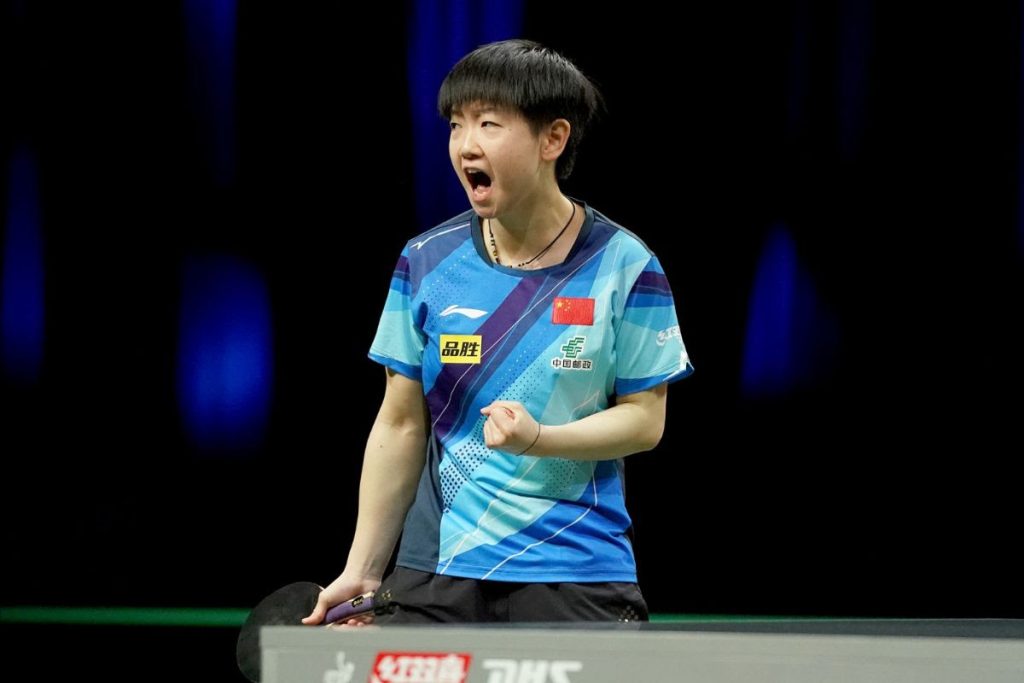 Expressing her joy and gratitude, Sun Yingsha shared, "It was not easy for me to win the game. I lost to Wang Manyu in the final last time, but perhaps I was luckier this time. Today, Chen Meng and I are both winners, and I have learned a lot from her as she is a very respectable opponent. This win has given me a lot of affirmation – as I have met with a lot of difficulties along the way, but I have managed to overcome them." 

To commemorate the end of the tournament, two other special awards were given out. The Fair Play Award went to Wang Yidi of China for her demonstration of good sporting spirit. In a fiercely contested quarter-final match against Hina Hayata of Japan, Wang showcased tremendous poise and professionalism. Despite facing the disappointment of having nine match points saved by her opponent, Wang graciously congratulated Hayata, exemplifying the true essence of fair play and respect.  

Ma Long, widely regarded as one of the sport's greatest, was honored with a prestigious accolade in recognition of his extraordinary achievement of winning the Men's Singles event three consecutive times in 2015, 2017, and 2019. He was awarded a half-size replica of the historical St. Bride Vase Trophy by ITTF Deputy President, Liu Guoliang. 
During the ceremony, Ma Long gave an emotional speech on the significance of this achievement, saying, "When I was young, I never thought that one day I would be standing here with this special trophy. Being here today is really an honor for me. I want to thank my country, our great team, my family, my friends, and my fans, for always inspiring me, supporting me, and making me a better man. I also want to show my gratitude to my opponents, because without them, I would not be where I am today. I hope that more people will eventually know about table tennis and grow to like the sport. Thank you, South Africa. Thank you, Durban."  

Ma Long's extraordinary achievements over his playing career which include securing the Men's Singles title in three consecutive World Championships and winning five Olympic Gold medals further cement his status as a table tennis legend.   

To mark the end of the historic tournament held on African soil for the first time in 84 years, ITTF President Petra Sörling expressed her appreciation to individuals who have helped make the event possible, saying, "As we approach the culmination of the event, I would like to show my deepest gratitude to the Local Organising Committee, the South Africa Table Tennis Board, the city of Durban, the province of KwaZulu-Natal, the Government of South Africa, dedicated volunteers, our esteemed partners, and our team for their invaluable contributions in making this event a resounding success." 
 
She added, "Here we witnessed exceptional performances, promoting the sport and inspiring the future generation, especially on the African continent. Together, let us continue to elevate the sport and create lasting legacies that will resonate throughout the world." 

As the curtains close on a special and historic World Championships, the table tennis community can look forward to the ITTF World Team Table Tennis Championships Finals Busan 2024 from 16 to 25 February next year. This will mark the first time in history that the event will be held in the Republic of Korea.