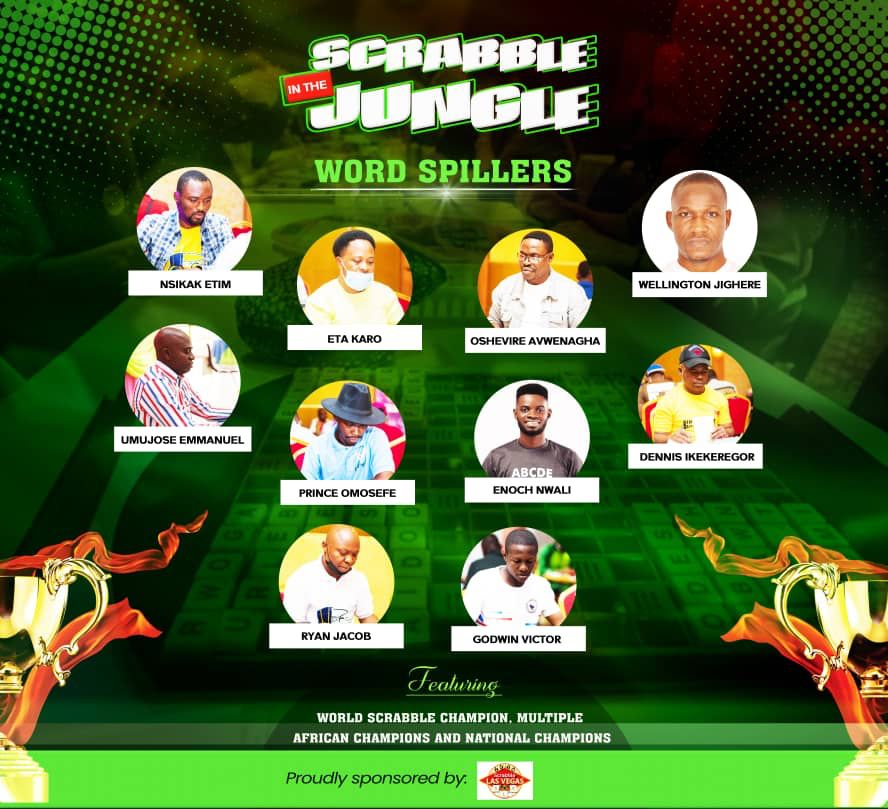 After the second day of raw 19 rounds of games filled with tension and mental endurance, Wellington Jighere rose highest from the pack to emerge as the winner of Matchday Two in the maiden Scrabble In The Jungle! Series. 
Eight top players across the country including two wild cards are being camped in a secluded location inside Warri, Delta State in the South-South region of Nigeria where they testing their wits and mental strength on the mind game.
The original venue in Asaba was moved to Warri in order to add the real feel of the atmosphere the tournament required.
Emmanuel Umujose who hit home on Day One as "champion" after 9 games were pegged back on Day Two by the chasing pack.
When the dust settled after the conclusion of a massive 19 games, Jighere took leadership.
Despite the rigors of engaging players who are champions in their own right, the 2015 World Champion moved in heavily harvesting 12 wins to push up his total winnings to 18 in 27 games and a cumulative of 775 points.
In second place Prince Omosefe displayed some level of resilience despite the toll of the battles on his mind and body as he earned 16 points, 11 defeats, and 474 cumulative points. 
The Edo State Royalty succeeded in edging Emmanuel Umujose, who rallied to reckoning with 16 wins, 11 defeats, and 377 points.
Bingo-dropping man-machine Enoch Nwali who has been finding it tough in the rough terrain raked in a total of 15 successes on the board with 12 losses and a cumulative of 306 points. 
Eta Karo made it to the fifth level with 14 victories, 13 losses, and, 981 points while Victor Godwin followed closely with similar wins of 14 and 13 setbacks but has baggage of minus 128 points.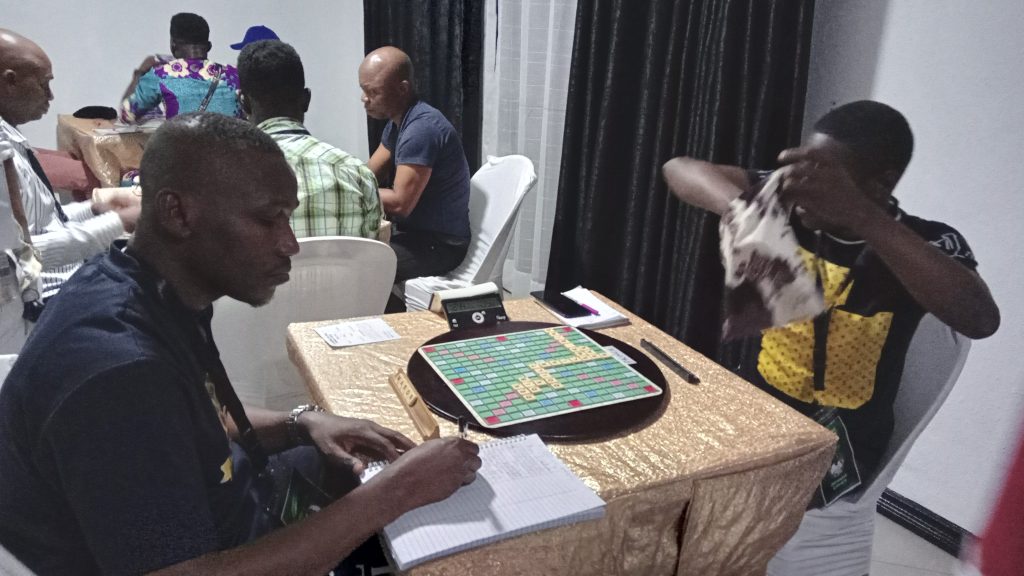 Homeboy Oshevire Avwenagha recorded a total of 13 wins, and 14 defeats with a minus 128 ahead of Dennis Ikekeregor who had 12 wins,15 losses, and a minus 728 points.
Ryan Jacob scored 9 wins, 18 losses with a cumulative minus 986 points while Nsikak Etim occupied the rear with 8 wins, 19 losses with, a minus 943 cumulative points. 
The final day of the contest resumes this Sunday morning with all contestants refreshed for the challenges ahead.
Organizers of the series, Scrabble Las Vegas said they are excited by the outcome of the event so far urging interested individuals to join hundreds of followers who have subscribed to any of the five WhatsApp Channels for live coverage through subscription.
Details below: 
*Payment for Subscription for Live following of all Scrabble in the Jungle Games:*
Nigeria Subscription:
Amount: ₦3,000
Account Name: Khaleel Adedeji
Account number: 0801473450
Bank: Access Bank
Narrative: Your WhatsApp number
International Subscription:
Amount: $10
Narrative: Your WhatsApp number
You may kindly send your evidence of payment to Dynamite at +2347033716203.