Richard Ofori of the Blue Rose Table Tennis Club coached by Lord Kinful sweeps aside the competition to become this year's male Under 21 Youth Discovery Champion.
The Youth Discovery Championship is an event organized by the Ghana Table Tennis Federation to unearth talents. As a result, a large number of clubs across Ghana participate.
The championship was held on the 1st of July 2023 at the D.G Hathiramane sports hall at the Accra Sports Stadium, amidst fun fare from the spectators who have trooped the sports hall to witness table tennis from the best talents available in the country.
The competition was in two categories for the boys and a category for the girls. The boys were divided into under 15 and under 21 boys, whereas the girls had a single category of under 21.
Richard Ofori had to fight from two games zero deficit in the final match against Micheal Yeboah of Rising Stars Table Tennis Club to win by three games to two (3:2).
In an interview, Richard Ofori indicated that
" I wanted to win so badly, the first game disrupted my plans as I led throughout the game only to lose it. However, my coach told me there are four more games to fight for and I needed to keep my concentration and maintain my level, which I did and the Good Lord gave me victory"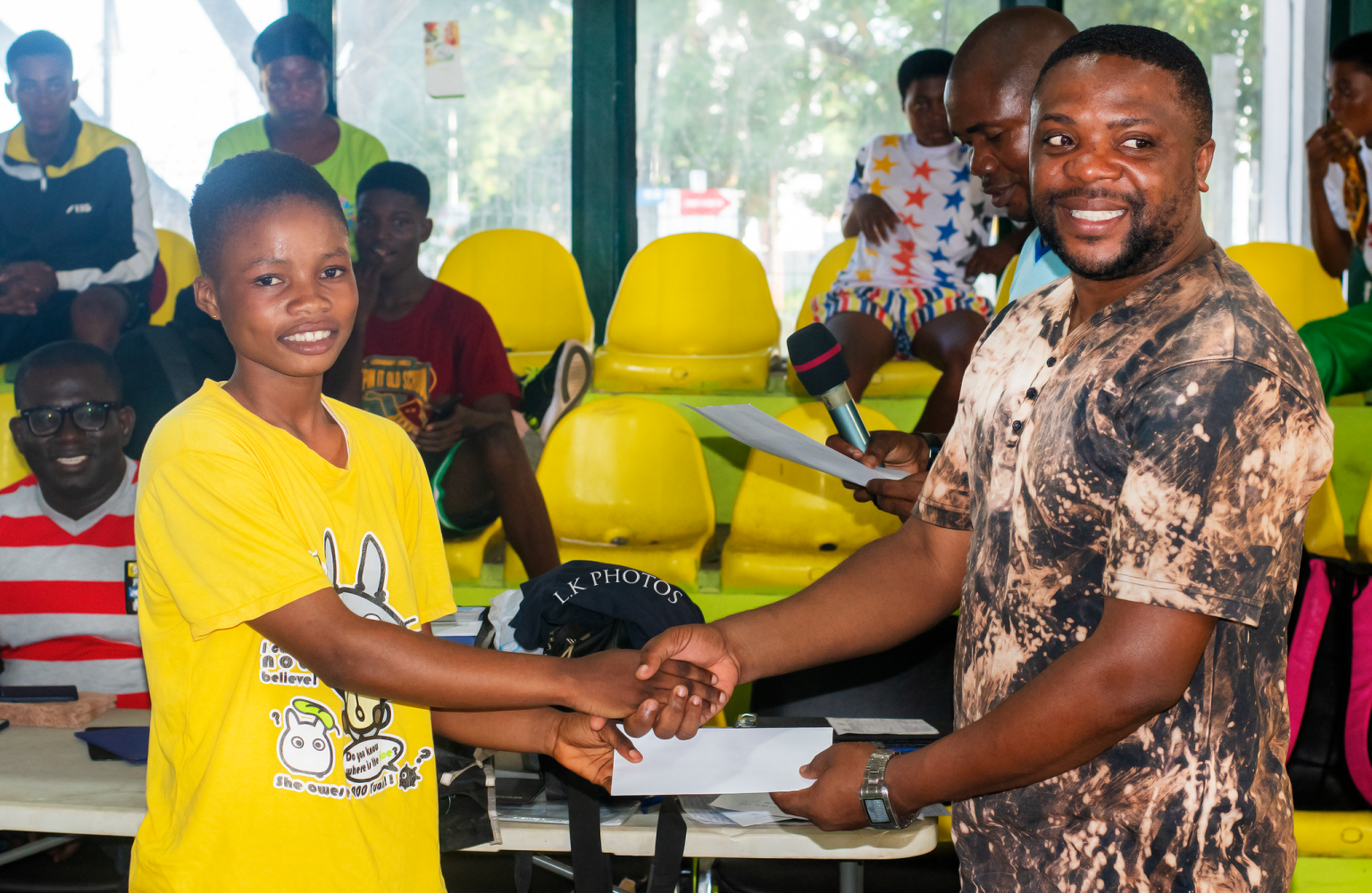 Blessing Labanti also of the Blue Rose Table Tennis Club came in joint third as she succumbed to Augustina Baidoo. It was the second time in two weeks that these ladies have met. In this encounter, Augustine won by three games to one (3:1) to progress to the lady's U21 final. In an interview Blessing indicated that
"I felt immense pressure during the encounter and that took away my creativity. I have to learn to handle the pressure which comes with the game in order to improve."
Mary Naa Borkor of Diamond Table Tennis Club, who trains with Blue Rose Table Tennis Club was joint Third after losing to Juanita Borteye of Rising Star Table Tennis Club, the eventual winner of the championship in the semifinal. It was a one-sided match in which the latest sensation of the females game in Ghana matched on to claim her second title in two weeks.
The competition also served as an opportunity for the youngest member of the Blue Rose Table Tennis Club to have a taste of what competition means. Louis Mbrah Kinful played against Rahim Sarpong Ahmed of the New Juabeng Table Tennis Club in which he was beaten by two games to zero (2:0). It was a game that saw Louis attack most, however, his unforced errors cost him the game.
Our next stop is at Nungua on 8th July for their Kpledzo festival which concludes with a table tennis competition.