There was euphoria in the atmosphere, gossip on the street corners, and expectations of what was to come in the 2023 Nungua Kpledzoo Table Tennis Championship organized by the J.L Table Tennis Club on the 8th of July 2023.
The weight of expectations on the shoulders of the players from  Blue Rose Table Tennis Club was huge due to their impressive performance in the National Youth Discovery Championship which saw Richard Ofori emerge as the best U19 player and Blessing Labanti as the joint third-best U19 player in the country.
Coming home to participate in the annual Kpledzoo tournament meant that they were going to face stiff opposition due to the quality of players participating in a township that has become the center of table tennis in Ghana.
Richard Ofori had a very shaky start as he lost in a close encounter at the group stage by three games to two (3:2) to Jeremiah Doku of Hope Table Tennis Foundation. The loss made clear the intentions of his opponent to ensure he does not win a sixth consecutive Nungua Kpledzoo Championship.
After several matches, the stage was set for the finals, and as faith may have it, it was between Jeremiah Doku and Richard Ofori. Both players have fought very hard to be in the finals. Jeremiah Doku won by three games to one (3:1) in the semifinals against Francis Antwi, whiles Richard Ofori defeated Issiah Bortier by three games to zero (3:0) in their semi-final encounter.
Jeremiah played an excellent first game ensuring Richard had few opportunities. In the subsequent games played in the best of five, the momentum swang in favor of Richard Ofori, who rediscovered his rhythm after receiving the needed guidelines from his coach Lord Kinful, which ensured the final concluded with three games to one (3:1)  in favor of Richard Ofori.
In an interview with TV Africa, he indicated that
" I needed to put in my best effort as Jeremiah played excellently. He gave me little opportunities so I had to fight very hard and thankfully the God Lord gave me my sixth consecutive title."
Blessing Labanti also of the Blue Rose Table Tennis Club won the U19 female championship after defeating Mary Naa Borko of Diamond Table Tennis Club. Mary Naa Borko and Blessing Labanti are training partners. As such they understand each other's game.
The final saw Mary take a two-game lead through accurate attacks and defending. However, her momentum dropped allowing Blessing to rally from the deficit of two games and to win by three games to two (3:2). 
In an interview, she indicated that : 
"I had to be patient and ensure my attacks were accurate. Mary knows my game and it's not easy playing her"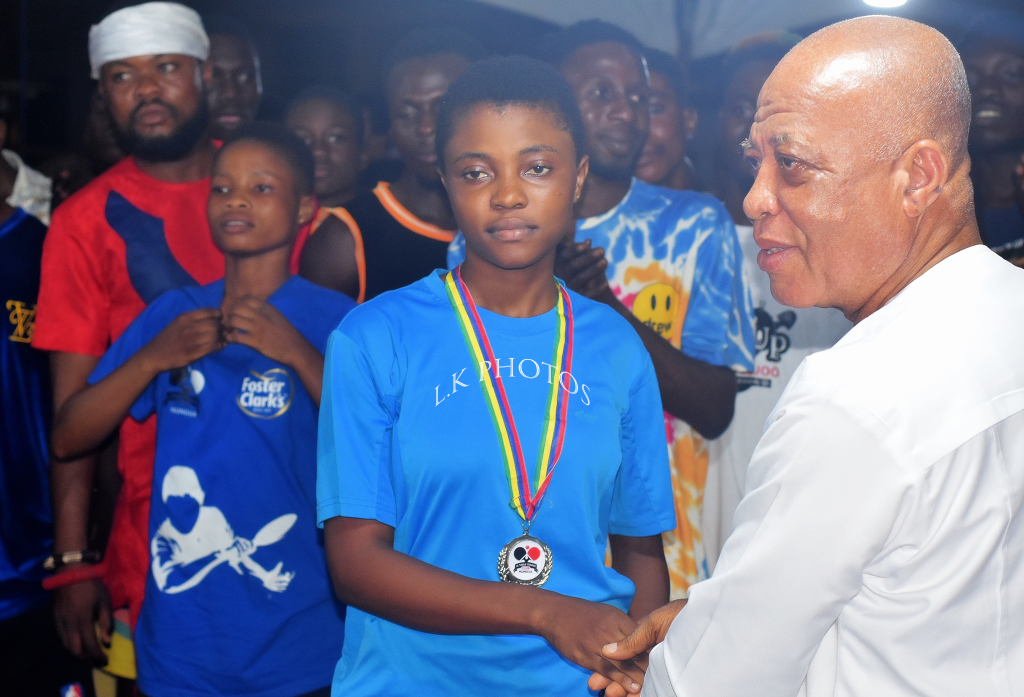 Mary Naa Borkor of Diamond Table Tennis Club, who trains with Blue Rose Table Tennis Club was second. She started the final in a spirited fashion, however, could not maintain her concentration when the contest became keen. 
In an interview, she indicated that: 
"The vociferous nature of the supporters of Blessing Labanti had a negative impact on my game. They were screaming so loud it made an already difficult game a lot more difficult."
Prince Aklie of the Ashiaman Table Tennis Club won the U15 boy's final after defeating Derek Ashigbe of the Ping Hopes Table Tennis Foundation by three games to one (3:1).
It was a sweet victory for Prince as he was beaten by Derek in the semifinals of the National Youth Contender Championship played a week earlier.
The 2023 Nungua Kpledzoo Table Tennis Championship had its main guest of honor the regional minister of Krowo Constituency Agnes Naa Momo Lartey who pledge her continued support to the people of Nungua.
The organizers also pleaded with the regional minister to help provide an indoor facility to be used for table tennis. They indicated that among the numerous challenges faced by the sport, the provisioning of an indoor hall will help unearth and develop the talents to levels that would benefit our country.
Follow this link to watch how the events in Nungua unfolded GH Table Tennis.